Trends Affecting Workforce Development in San Mateo County and the San Francisco Peninsula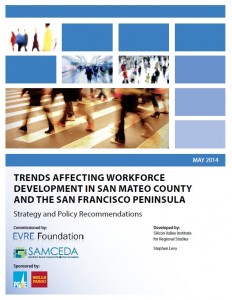 This report examines trends affecting workforce development in San Mateo County and the Peninsula, a sub-region in the heart of Silicon Valley. It spotlights the persistence of poverty even in the face of surging job growth, reviews the best practices fostering upward mobility for the workforce, and outlines strategies that can be carried out by workforce boards, community colleges, and private industry.
The report recommends that industry leaders, education officials, workforce boards, and elected officials come together around regional approaches that will support the twin goals of workforce development and economic growth.
To View the Full Report Click Here
Developed by:
Joint Venture Silicon Valley
Stephen Levy – Center for Continuing Study of the California Economy
Commisioned by:
EVRE Foundation
SAMCEDA
Sponsored By:
Pacific Gas and Electric Company
Wells Fargo