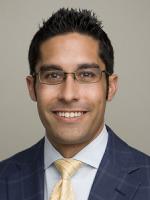 Sunil Pandya is a market executive for the Wells Fargo Commercial Banking San Francisco and North Bay regions. Based in San Francisco, Sunil leads teams focused on serving the financial needs of business banking and middle market banking customers in San Francisco, San Carlos, Petaluma, Santa Rosa, Napa, and surrounding areas.
Before his current role, Sunil was the middle market credit officer providing credit support, approval, and oversight of several middle market banking offices in Northern California as well as the Technology, Media, and Telecom (TMT) specialty business. With Wells Fargo since 2002, Sunil began his career with the Community Banking Group in San Francisco. He has since held various other roles, including serving as regional vice president of the Peninsula Regional Commercial Banking Office, part of middle market banking and located in Palo Alto, California, where he and his team provided local services and decision making to middle market companies, including lending, cash management, capital markets, and other specialty banking services. Prior to this, he served in various other relationship management and credit leadership roles in middle market and TMT banking in San Francisco and Palo Alto.
Sunil earned his bachelor of science degree in finance from the University of San Francisco.
In the community, Sunil serves as a director of the San Mateo County Economic Development Association, a board member of the San Mateo County Public Library Foundation, and a board member of Sequoia Hospital in Redwood City. He is a past board member liaison for Wells Fargo's participation in the Silicon Valley Leadership Group and a past board
member of the University of San Francisco Alumni Association Silicon Valley Chapter.
Sunil resides in San Mateo, California, with his wife and son.