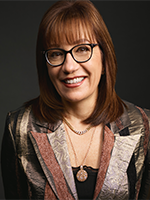 During her tenure as President and Chief Executive Officer of the San Mateo County Economic Development Association (SAMCEDA) in California, Rosanne Foust has accomplished several objectives for the organization, including increasing membership, developing the annual Awards of Excellence to focus on innovation and entrepreneurship and contributing to the advancement of high-speed transit in the area.
In addition to serving with SAMCEDA, Rosanne Foust served ten years on the board of directors of the San Mateo County Transportation Authority, including five years as chair, where she played a key role in the allocation of funds for improving rail, highway and street infrastructure and the investment of $445 million in current transportation projects.  For twelve years (2003-2015) she proudly served on Redwood City Council with two terms as vice mayor and a term as mayor (2007-2009).  
Rosanne Foust has a long history of working on issues related to the health and restoration of the San Francisco Bay including her work on sea level rise issues, restoring Bair Island wetlands, and serving for seven years on the San Francisco Bay Restoration Authority as a founding board member representing San Mateo County.