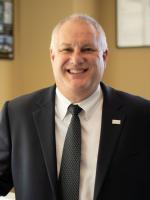 President and Chief Executive Officer
Greg Hurd is the President and Chief Executive Officer of BKF Engineers. Greg focuses on driving strategic growth initiatives, managing operations, engaging staff, and ensuring quality project delivery. His responsibilities include overall management of corporate functions as well as implementation of Strategic Plan goals and other initiatives determined by the Board of Directors including the promotion of the vision, values, and culture of the Corporation.
Since 1988, Greg has participated and managed a variety of diverse civil engineering and land surveying projects for both public and private clients including commercial and industrial developments, winery facilities, residential and multi-family developments, healthcare facilities, educational campuses, mixed-use developments, hospitality and public works projects throughout the San Francisco Bay Area.
Greg was raised in Petaluma, attended college in San Jose and upon graduating he returned home to the North Bay and began working in the civil engineering and land surveying industry. Passionate about community involvement, he became active in many local business and societal organizations such as the American Society of Civil Engineers, the American Council of Engineering Companies, California & Nevada Civil Engineers and Land Surveyors Association, Inc., North Coast Builders Exchange and the California Building Industry Association.
Greg has been married to Gina since 1999 and together they have raised two very successful, smart and energetic boys Garrett and Grant who are both currently in college.