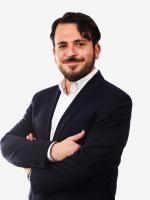 Coblentz Patch Duffy & Bass
Frank Petrilli is a trusted advisor to his clients on all matters related to the entitlement process, including entitlement strategy, land use and land use litigation, and compliance under the California Environmental Quality Act (CEQA). He helps his clients obtain entitlements for complex and controversial developments, negotiate and draft agreements with local governments and regulatory agencies, and resolve problems at all stages in the development process from early planning through entitlement and construction. Frank also focuses on housing policy, as well as long-term planning efforts across the Bay Area.
Named a "Top 40 under 40" California attorney by the Daily Journal in 2020, Frank takes a pragmatic approach to serving his clients. He focuses on identifying the key issues facing a project and developing creative solutions to efficiently deliver on the outcomes that matter most. He also helps build entitlement teams from the ground up, while providing thoughtful, strategic advice based on his strong political instincts, technical expertise, emotional intelligence, and intuitive understanding of how local government works in practice. Frank primarily focuses on infill projects in the San Francisco Bay Area, with a particular focus on the Mid-Peninsula and Silicon Valley regions.
Frank serves on the Board of Directors for the San Mateo County Economic Development Association (SAMCEDA) and the Bay Area Council. He is a member of the San Francisco Planning and Urban Research Association (SPUR) and the Urban Land Institute.
Frank earned his J.D. from the University of California, Los Angeles School of Law with a specialization in Philosophy of Law. He earned his B.A. in Philosophy from the University of California, Santa Cruz.