Transit District Chief Announces New Organizational Structure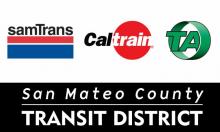 August 25, 2015
General Manager and Chief Executive Officer Jim Hartnett today announced a restructuring of the executive management team at SamTrans, which also has administrative responsibilities for Caltrain and the San Mateo County Transportation Authority. The move is intended to improve the operating efficiency of all three agencies and the administrative functions that support each service.
The new organizational chart can be seen HERE.  
Shortly after joining the District, Hartnett launched a series of small group meetings open to every employee in the agency. He intended the meetings to be listening sessions that would allow him to learn more about the agency's employees and their functions but would also provide opportunities for thoughtful discussion about how the District could be improved.
Over the course of his first few months, he met with more than a hundred   employees. Themes that emerged from these discussions included, increased employee empowerment, clearer lines of responsibility, improved internal and external communications, a focus on alignment and accountability and more opportunities for growth.
"These listening sessions formed the foundation for the new organizational structure. The themes that emerged during my meetings with employees will improve the District's ability to implement its top three priorities, which include strengthening our fiscal health, improving the District's services to enhance the region's mobility and becoming a more effective organization," said Hartnett.  "Every employee is vital to providing safe and reliable, bus, paratransit, shuttle and rail services and improved mobility management through the county's TA programs.  Creating a new organizational structure is intended to promote employee engagement and efficiency in reaching those important goals."
 "These changes reflect the importance and focus each of these areas will require in the next few years.  We will be seeking to resolve the long-term structural financial issues facing SamTrans and Caltrain that requires the heightened focus of a dedicated Chief Financial Officer, as long-term employees begin to retire out of the workforce the District's hiring and retention practices will need to change, a Chief Administrative Officer can oversee that work.  Bringing all communications together under one broad heading will improve the agency's interactions with the public, customers and new, potential markets," explained Hartnett.
Improved accountability was another area of emphasis the new CEO hoped to address through the updated organizational structure.  Streamlining the organization to ensure the divisions were structured to take on new projects and challenges and address them in a comprehensive manner was part of the move towards greater accountability.  But the reorganization was also intended to reflect the changing nature of the increasingly complex projects the District is faced with as it pursues modernization for both its SamTrans and Caltrain services.
"The scope of SamTrans responsibilities has changed dramatically in the past 15 years," said SamTrans Board Vice Chair Zoe Kersteen-Tucker. "With the extension of BART to the airport, the ongoing modernization of the Caltrain service and the need for innovative solutions to provide more frequent and accessible bus service throughout the county, the agency needed to realign its way of doing business to reflect the new, more complicated reality."
Executive Team Structure
The new executive management team provides greater focus and alignment and establishes clear lines of responsibility with higher visibility for core functions.
Chief Operating Officer/Rail
Chief Operating Officer/Bus
Rather than have bus and rail in a single department, the functions have been  elevated to direct-report positions, reinforcing the critical place these services have in the organization.
The new Chief Operating Officer/Rail will be Michelle Bouchard, who was Caltrain's Director of Rail Operations before she left nearly three years ago to join BART. She was actively recruited for this new position. Bouchard starts in her new position on September 28.
The position of Chief Operating Officer/Bus is currently vacant and will be filled by an internal-only recruitment. There are a number of people at our agency who through hard work and dedication have earned the chance to be considered for this post. The recruitment will begin immediately with a decision expected in late September.
Engineering and Construction functions will be part of rail but will support other departments on an as-needed basis.
Chief Financial Officer
The Finance Division once again will be a stand-alone division headed by a CFO who reports directly to the General Manager/CEO, a reflection of the priority placed on the District's financial sustainability and the responsibility for being transparent in managing the public's money. This position will be filled by an external recruitment. A recruiting firm will be hired to conduct a nationwide search for this crucial position.
In addition to all the traditional Finance functions, Contracts and Procurement will now reside in Finance, reflective of a function that has at its core the allocation and expenditure of agency funds.
Deputy CEO/ Chief Administrative Officer
Administration also will return as a stand-alone division that reports directly to the General Manager/CEO. This is a group of essential functions, among them: HR, Safety, Real Estate, IT, Claims, Civil Rights and Transit Police – departments that are the backbone of the agency's ability to function.
Deputy CEO Gigi Harrington has agreed to take on this new assignment. She will retain her Deputy CEO position, befitting her continuing overall deputy duties and additional responsibilities for the special projects she is shepherding. All areas of Administration are critical to our operations. HR and Safety are taking on ever-increasing importance and the CAO will be a strategic partner in enhancing our efforts in these areas.
Chief Communications Officer
To unify and enhance the communications and critical interactions that occur internally and externally, with the community and with customers, the Public Affairs and Marketing/Customer Service departments will be merged under the leadership of the newly created position of Chief Communications Officer reporting directly to the General Manager/CEO. This position will be filled with an internal-only recruitment. The new job will be posted today and is expected to be filled by late September.
Chief Officer, Planning, Grants and the Transportation Authority
This position is being renamed to reflect more accurately the current flow of work and responsibilities. The TA team has worked closely with the Planning team over the past several years. Now, this department will have full authority over the TA activities. April Chan will continue as Chief Officer retaining her existing responsibilities with the additional oversight for the TA.
Chief Officer, Caltrain Planning and Modernization
This position is unchanged and will continue to be ably led by Marian Lee. Electrification is the most complex and transformative project in the 150-year history of the Caltrain system.  Marian Lee has been instrumental in shaping and leading this project and her direction will be critical to meeting upcoming milestones and continuing this work for the next phase of modernization.
Executive Officer, Board Secretary/Executive Administration
This position's title has been adjusted slightly to align it with the reorganization plan. The functions and responsibilities are unchanged and will continue to be led expertly by Martha Martinez.
Deputy CEO, Organizational Support/Special Projects
Chuck Harvey, will remain as a Deputy CEO in a transitional position, delaying his planned retirement at the request of the General Manager/CEO. He will assist in the continuing evaluation and implementation of the reorganization, support the Chief Operating Officers of Bus and Rail, and overseeing certain ongoing capital projects and programs.
Senior Advisor, Strategic Initiatives
Mark Simon has agreed to assume this new position, serving as the General Manager/CEO's representative internally and externally and bringing to bear his extensive community contacts and political acumen on critical strategic initiatives affecting the future of the agency.  One of the critical areas of Simon's focus will center on identifying a dedicated funding source for Caltrain and working towards a regional consensus to support it.  Caltrain will require a stable revenue structure to achieve long term operational growth and continued modernization.
Several of the new positions are currently vacant.  The General Manager/ CEO is in the process of identifying appropriate internal or external candidates to fill these new slots.  As a result, some of the changes will be delayed until the new chief officers are in place. 
###
For More information, click here.