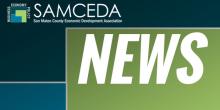 For SAMCEDA's Annual Meeting in June 2016, we were looking for ways to best capture the uniqueness of San Mateo County and its ecosystem. This was when the idea of "THRED" Talks was born. Weaving San Mateo County Together through "THRED," Transportation, Housing, Regionalism, Economy and Development – five subjects that encompass the depth and breadth of communities identifying opportunities and meeting the challenges that come with change.
Since our Annual Meeting, we have collaborated with eight community leaders that help promote San Mateo County as THE place to work, live and prosper.
To view the book, please click here.