Design Tech High School is Awarded Two Silicon Valley Business Journal Structures Awards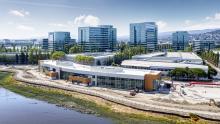 Two of SAMCEDA's long time supporters, DES Architects + Engineers and Oracle, were honored at the 2017 Silicon Valley Business Journal Structures Awards, for the design of  Design Tech High School—a new public charter school at Oracle's Headquarters. The project received the People's Choice Award and Best Educational Project. The Business Journal celebrates the most impactful projects in a diverse range of categories at the annual awards event. 
"This project is an extraordinary public-private partnership and in a lot of ways it represents the best of the Silicon Valley community. This is an example of positive disruption in education," said Colleen Cassity, Director of the Oracle Education Foundation. 
Opening early 2018, Design Tech High School's (d.tech) new facility at Oracle's Redwood Shores Headquarters will be the first public high school in the U.S. to be located on a tech company's campus. The new school facility is being built to meet the specialized needs of the school's forward-thinking education model, which emphasizes extreme personalization and putting knowledge into action.
"We couldn't be more excited to build this school on our campus and to see the positive impact it will undoubtedly have on the students, teachers, Oracle employees and the Bay Area community," added Safra Catz, CEO of Oracle.
The design process began by understanding d.tech's needs and its character through a series of visioning sessions and design charrettes led by DES Architects + Engineers.
"The design of the school had to reflect d.tech's culture. We met with students, teachers, and parents to get their input on what they needed, how they work now, and how that could be different in the new building. The collaboration between d.tech and DES was needed to design the perfect environment for them." -- Dawn Jedkins, Associate Principal of DES Architects + Engineers
The hands-on workshops led to shared goals and guiding principles for the new facility: flexible interiors, sustainability, and powerful technology integration. Congratulations to the entire project team! 
For more information, please visit: https://www.oracle.com/d-tech/index.html