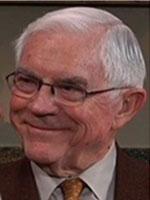 Emeritus Advisor to the Chair
T. Jack Foster, Jr. who, with his father and brothers, acquired four square miles of land and today is known as Foster City, CA.
Born in 1928 in Norman, Oklahoma, Foster was the eldest son of T. Jack Foster and Gladys Hutchins Foster. Two brothers would follow: John R. (Bob) and Richard (Dick). They all attended public school in Norman, including high school. After high school, they all entered the University of Oklahoma which is located in Norman.
Upon graduation in 1951, T. Jack Foster, Jr. entered the air force, having earned a commission in the ROTC program. He served for two years then moved to Hawaii where he entered the development business, working for his Dad's partner. In 1955, he joined the newly formed company consisting of his Dad and two brothers. He was in charge of the Hawaii operation which developed over 1500 lots and houses. The 25 story Foster Tower was started in Waikiki, finished by his brother, Dick, when he moved to California to join his father and brother, Bob, in the construction of Foster City. 
In 1954, he married Patricia Chesnut, originally from Miami, Oklahoma. They have three children, daughter Lee, and son, T. Jack Foster III, both born in Hawaii. Son, Mark, was born in California.