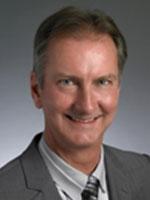 Land Development Director
Randy Smith, Vice President, Global Real Estate & Facilities, for Oracle Corporation, started his real estate career upon joining Oracle in 1989.  He is currently responsible for real estate and facility operations for Oracle's global portfolio of approximately 25 M square feet after serving in capacities for headquarters and then US real estate and facilities.  Oracle's Real Estate and Facilities team have supported over 80 corporate acquisitions over the past eight years.
Randy graduated from Stanford University in 1985 with a M.S. in Civil Engineering: Infrastructure Planning and an A.B. in Human Biology: Land Use Planning. 
He has been a Board member of Samceda since 1995 and chaired this economic development organization for about three years.  He has also served for three years as President of the NACORE Northern California Chapter.  In 2003, Randy was honored as Corenet's Northern California chapter's Corporate Real Estate Executive of the Year.   He is currently serving on the Corenet Global Board as Chair-Elect.   Randy is also in his fourth year of service on the Board of Habitat for Humanity Greater San Francisco.