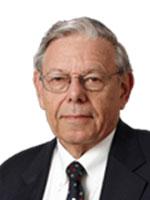 Partner, Director of Real Estate/Corporate Department
With 30+ years of experience in real estate, corporate and tax law, Norm brings expertise from a unique combination of disciplines to the clients he serves. In addition to handling major real estate and business transactions, he serves as counsel for a number of the firm's business clients. Norm's broad exposure to a variety of different businesses allows him to effectively structure transactions involving multiple parties and complex legal issues.  Additionally, his experience serving on the Board of Directors of a major manufacturing company enables him to bring a pragmatic business approach to his clients' transactions.
Norm is also active in community affairs and has served as the president of a number of business and charitable organizations. His leadership role was recognized by SAMCEDA (San Mateo County Economic Development Association) with the David D. Bohannon Lifetime Achievement Award.
Other Affiliations:
United American Bank, Board of Directors
C.M. Russell Museum, Great Falls Montana, Board of Directors
Hillbarn Theater, Board of Directors