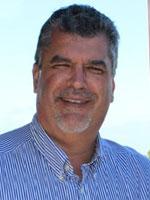 Mario Puccinelli began his career working as a garbage collector in 1978. After working in all facets of the operation, he became a supervisor in 1994.  In 1995, Mario was promoted to District Manager. In that capacity, his responsibilities included directing the day-to-day operations for the refuse and recycling services in the Financial District, Chinatown, North Beach, Fisherman's Wharf and the Marina District. Mario was a member of many community and merchant organizations during my tenure in San Francisco.
In March of 1999, Mario became the General Manager of San Bruno Garbage Company and immediately became a Director of the San Bruno Chamber.  While serving in that role, he was also a member of the Beautification Task Force for the City of San Bruno and served on the President's Council for Skyline College. Mario was named Chamber Volunteer of the Year in 2000 and in 2001, and was elected to become the President of the San Bruno Chamber. 
Mario was an active member of the Rotary Club of San Bruno from 1999 until 2010. He was proudly chosen to be President of the Club for Rotary's Centennial Year in 2004-05. A two time Paul Harris Fellow, he took a 2 year sabbatical from Rotary to start up Recology, San Mateo County, and have just become a member of the Rotary Club of San Mateo. 
In his role of VP-GM, Mario is responsible for the achievement of short term and long term financial and operational objectives for the Company while ensuring a high level of customer service along with maintaining positive relationships with local communities, the existing customer base, local agencies, city councils, city staffs, etc.