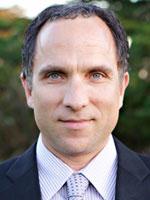 Jonathan Scharfman has 22 years of experience in planning, design, financing, and construction of commercial, mixed use, institutional and residential projects in the Western US and Mexico. He previously worked for Universal Paragon Corporation and was responsible for over $ 2 billion of complex brownfield and urban infill projects in and around San Francisco, CA.
These projects include the 650 acre Brisbane Baylands, located on former rail yards midway between San Francisco's airport and downtown. Currently under Environmental Review, over 12 million square feet of mixed-use development are planned around a regional intermodal transit hub, housing, entertainment facilities and Clean Energy Research and Development Center. 
He is an active member of San Francisco Planning and Urban Research Association, Bay Area Council, San Mateo County Economic Development Association, Business Council for Climate Change and the Urban Land Institute.
Jonathan is a LEED Accredited Professional with the US Green Building Council and holds a Masters in Real Estate and Urban Development from Harvard University.